Library
The library has a rich collection of around 5010 titles and 9025 volumes pertaining to the needs of the users. Magazine & journals are being subscribed, apart from five newspapers (English & Tamil). The library reading hall in the ground floor has the capacity to accommodate around 50 users. The E-learning section in the ground floor caters to the digital needs of the users with respect to academic content requirements. NPTEL web video courses and NITTTR developed E-learning CD'S are some of the resources available for students and staff. All facilities are available in the library for optimum use of resources by the users. .
SALIENT FEATURES OF THE LIBRARY.

1. Air conditioned library.

2. E-Learning section with multimedia projector and screen are available.

3. All activities of library computerized using 'MODERNLIB', a library management software.

4. CCTV installed in the library.

5. All books Bar coded.

6. 8 computer systems, 2 printers and one 40"T.V are available.

7. Reprographic facility has been provided to facilitate taking of photo copies.

RULES

1. Open Access system is followed in the library.
2. Maximum three books can be borrowed by the user.
3. Maximum 2 renewals allowed for a book.
4. Newspapers, Magazines & Journals are not lent out. They should be referred to in the library only.
5. A book can be retained by the borrower for a period of 14 days. Overdue books attract a fine of Rs.0.50 per day of default.
6. All users are expected to maintain silence in the library.
7. OPAC (On Line Public Access Catalogue) available. Users may refer to this to get the required book and to know their status.
8. Library bar coded identity card should be shown to library staff when ever demanded.
9. All users should scan their library bar coded ID cards while coming inside the library & while going outside the library. A computer system with scanner is provider for this purpose at the entrance of the library.
10. Readers are requested to maintain the library resources properly, as it is to be used by other users also.
11. Personal belonging of the users should be kept in the space provided for it in the library (valuables not to be kept in their bags)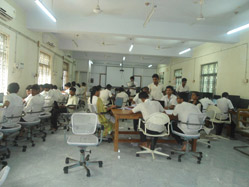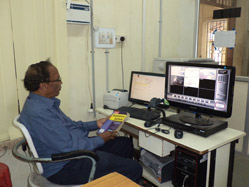 Online Resource:
4. World News Paper Read Online