FACILITIES
Laboratory
Library
Physical Education
CIICP
NSS
Computer Engineering Department
1. Computer Installation and Servicing lab
2. Multimedia lab
3. Programming lab
4. Microprocessor lab
Information Technology Department
1. Programming lab I
2. Programming lab II
Mechetronics Department
1. CAD/CAM lab
2. EDC lab
3. HP lab
4. PCI lab
5. Electrical lab
First Year
1. Physics lab
2. Chemistry lab
3. Work shop
4. English Communication lab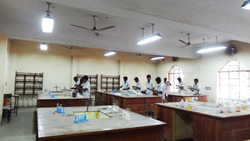 The library has a rich collection of around 4300 titles and 6400 volumes pertaining to the needs of the users. Magazine & journals are being subscribed , apart from five newspapers (English & Tamil).
The library reading hall in the ground floor has the capacity to accommodate around 50 users.
The E-learning section in the ground floor caters to the digital needs of the users with respect to academic content requirements. NPTEL web video courses and NITTTR developed E-learning CD'S are some of the resources available for students and staff.
All facilities are available in the library for optimum use of resources by the users.
SALIENT FEATURES OF THE LIBRARY
1. Air conditioned library.
2. E-Learning section with multimedia projector and screen are available.
3. All activities of library computerized using 'MODERNLIB', a library management software.
4. CCTV installed in the library.
5. All books bar coded.
6. 8 computer systems, 2 printers and one 40"T.V are available.
7. Reprographic facility has been provided to facilitate taking of photo copies.
RULES
1. Open Access system is followed in the library.
2. Maximum three books can be borrowed by the user.
3. Maximum 2 renewals allowed for a book.
4. Newspapers, Magazines & Journals are not lent out. They should be referred to in the library only.
5. A book can be retained by the borrower for a period of 14 days. Overdue books attract a fine of Rs.0.50 per day of default.
6. All users are expected to maintain silence in the library.
7. OPAC (On Line Public Access Catalogue) available. Users may refer to this to get the required book and to know their status.
8. Library bar coded identity card should be shown to library staff when ever demanded.
9. All users should scan their library bar coded ID cards while coming inside the library & while going outside the library. A computer system with scanner is provider for this purpose at the entrance of the library.
10. Readers are requested to maintain the library resources properly, as it is to be used by other users also.
11. Personal belonging of the users should be kept in the space provided for it in the library (valuables not to be kept in their bags)
CANADA INDIA INSTITUTIONAL CO-OPERATION PROJECT
Canada India Institutional Co-operation Project was started in this institute in the year 2002-2003. Through this project the holistic development of all students are taken care of. There are five-thrust areas:
Staff Development
All staff members are trained in new emerging technologies.
Continuing Education
Under continuing education, various courses are conducted to cater to the needs of school dropouts, diploma holders, housewives, students of other institutes for their livelihood. Many courses such as CNC machines and Programming and Computer Applications are conducted.
Students Services
In student services, the students are motivated to participate in extra curricular, co-curricular activities held at other institutes.
Women in development
Women are given more importance and activities like Yoga, Medical Counseling, Legal rights, Health and Hygiene programmes are conducted for the girl students.
Environmental development
In environmental development, more guest lectures are arranged to emphasis the need for green environment, eradication of tobacco and awareness of many diseases like tuberculosis.
The activities of SPIC are undertaken by the following staff members:
| | |
| --- | --- |
| Name | Role in CIICP |
| R. Narayanan | Poly. Coordinator |
| S. Nagarajan | Process Champion |
| Umachelliah | Con. Ed. Manager |
| K. Mangalam Jayastree | Women in Development |
| D. Rani | Students Service, Staff development |
| K.K.Kalatharan | Environmental development |
NSS is an Indian government sponsored public service program conducted by the department of youth affairs and sports of the government of India.
Our college NSS unit is functioning under the guidance of Directorate of technical Education ,Tamilnadu
To get a sense of involvement in the tasks of nation building our college NSS unit(100 volunteers) take active part in community service by
1. Providing skill development training for youth and village people through 7 days camp programme
2. Helping health workers during polio camp
3. Organizing public awareness rally for dengue prevention, national voters day, etc,..
4. Conducting self improvement programs like yoga
5. Sponsoring student to attend seminar and career guidance programs